abcCorrector allows you to detect up to 4 times as many errors as your existing editor.
abcCorrector is the result of the partnership of a group of linguists and IT technicians working together with the shared goal of developing the best possible Spanish grammar and spell-checker.
abcCorrector is borne from the experience of over 25 years in the development of grammar checkers. Thanks to user feedback and the study of the requirements of different groups (Spanish students, writers, journalists, bloggers, etc.), we saw the need to rethink the way a language as rich as Spanish is corrected.
Esta medida
evitaría que las personas viajen

a ese país.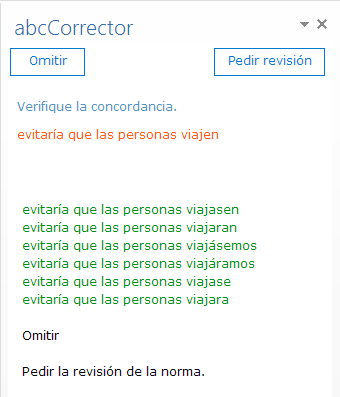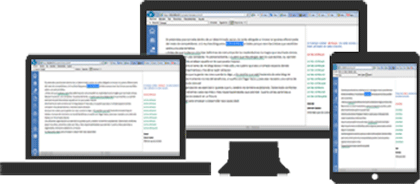 Mac, PC, Laptop and Tablet
The freedom of being able to access abcCorrector from any device or operating system. Just write, and abcCorrector will ensure your text is completely error-free.
abcCorrector to Word (Windows).
It works seamlessly as a native extension within Office and takes advantage of Microsoft's latest functions.

With direct access to all the features of abcCorrector in its own dedicated tab, it offers a range of tools to make composing and reviewing your document as simple as possible.

Compatible with Office 2007, 2010, 2013 and 2016
Windows 7, 8 and 10
More resources

More content
The base dictionary contains over 120,000 terms, including toponymy, augmentatives, diminutives, superlatives, adjectivization, etc. The verbs dictionary contains over 7,700 infinitives, along with their simple and reflexive forms.
Thematic dictionaries
It incorporates dictionaries from different areas, allowing you to select the ones that best suits your needs.
Law, medicine, computer, toponymy, etc.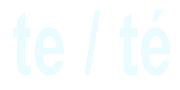 Accentual difference
It includes an analysis tool which shows which terms would be different if they had an accent, helping to avoiding errors such as:

Pronoun and verb
varias - varías


Name and verb

máscara – mascara


Adjective and verb

líquido – liquido

¿Te gusto? o ¿Te gustó?
Él amplió camino o El amplio camino